Thank you to Julie Slama at The City Journals for this wonderful write-up!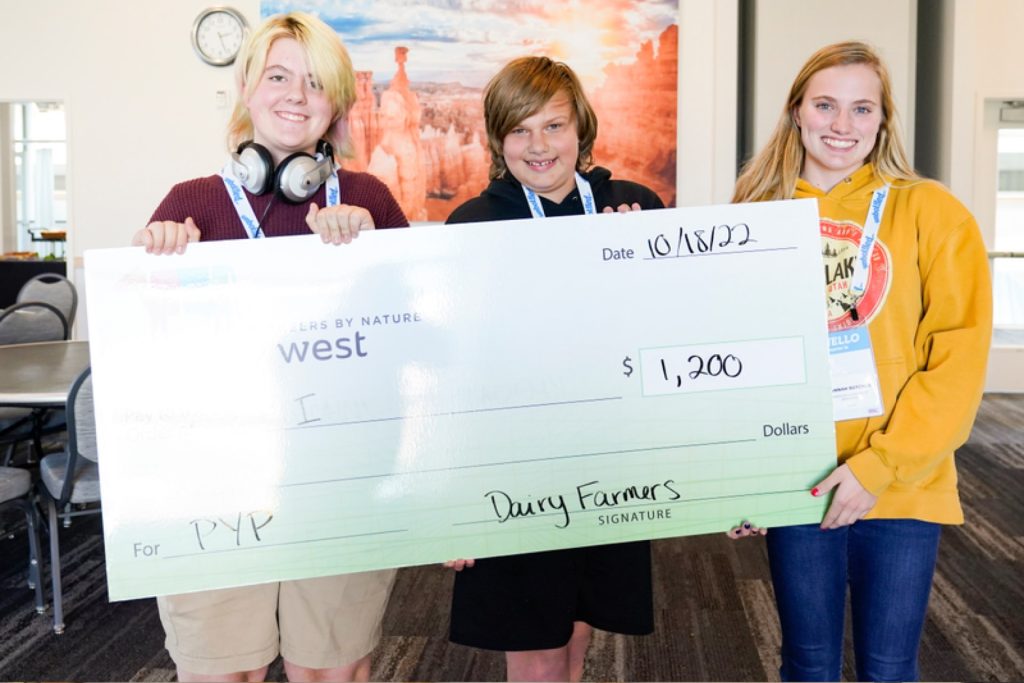 Three American Academy of Innovation students created a plan devoted to help the effort in food insecurity in their school neighborhood.
As part of the Dairy West's Power Your Challenge, these charter school students created a farm-to-table plan based on research that included a budget in their project, "Food Gardening Paradise." As a result, senior Hannah Butcher, sophomore Ray Hecox and freshman Logan Kleinsmith were awarded $1,200 by Dairy Farmers of Idaho and Utah earmarked to implement a garden at their school.
The project began earlier this school year when guest speakers, including representatives from Dairy West and the Utah Food Bank, spoke to students.
"These students realized the inability to get food to the table for some families in our community," said their teacher, Kathy Nuttall. "In the hour challenge, they came up with an idea, then created a plan to serve their community. They presented it on a poster to the judges."
On their poster presentation, the students included the fact that one in eight families in Utah are food insecure, Nuttall said.
"They said that gardens will decrease the number of starving people and provide resources for those who don't have the opportunity to garden," she said. "They had to come up with a budget that included their boxes, hoses, soil, plants and everything they need."
The plan also detailed seasonal gardening workshops, healthy recipe books and seminars. It was designed to be environmentally sustainable.
Initially, the students' idea was for a community garden in Daybreak, but once they learned there already was a garden, the trio tailored the idea for the school.
"This way, they could get more students involved in the project, which they liked," Nuttall said.
The funds will go toward grow boxes that will be maintained by a newly formed student garden club. The fresh vegetables will be available for students and families in need. It is being planned to be installed west of the school's greenhouse.
Nuttall learned about the Dairy West Challenge when she took students to the family-owned Bateman's Dairy Farm and was told about it.
"Going to the dairy is a good opportunity for my students. We talked about dairy cows and vegan dairies. It's good for them to see what a dairy looks like and how it runs. They're also one of the largest robotic dairies in the surrounding area so it's pretty exciting for the kids to see," she said.
Nuttall believes her students learned about making an impact.
"I hope what was learned is not to be afraid. They put themselves out there and spoke up with their idea. They also learned how to design a plan from start to finish and come up with a budget. It extends beyond a classroom assignment or lecture. They've been able to branch out and see how potentially what they're doing can affect a larger group of people," she said. "It's hands-on learning that is making a positive impact on our community."